The subject of Ayurveda is vast but simultaneously simple and user-friendly.
The question "What is Ayurveda about" is one I get asked frequently.
This post will seek to explain what Ayurveda is about, where it came from and how you can use it to understand yourself and improve your health and well-being.
What Is Ayurveda About?
Ayurveda is a profound holistic healthcare system and approach to life. It is one of the main forms of healing given to mankind by ancient teachers thousands of years ago. The roots of Ayurveda are part of Indian philosophy, the Vedas.

The Vedas are four ancient books of knowledge estimated to be between 5 – 10 thousand years old.
The Rig Veda is a collection of hymns.
The Yajur Veda and Sama Veda are the foundations of Indian philosophy.
The fourth Veda is the Atharva Veda, which dates from 1200 and is the primary sourcebook for Ayurveda. The Vedas contain ancient knowledge of how our world works as well as the secrets of sickness and health.
During the age of this ancient civilization, lived enlightened rishis or seers. These beings were said to have a higher consciousness and keen perception.
It's possible these evolved beings came from other star systems. This isn't something taught in books or schools, rather just my own pondering. But, the Vedas, the ancient Indian texts talk about Vimanas (flying machines/spaceships)…
There is no way to know for sure, but I have often wondered where all the different gods and deities from different religions came from since they were not human.
It seems every ancient civilization had contact with gods who came from the sky. Whenever they appeared lights, halos or smoke accompanied them. They were super intelligent and had superpowers and technologies.
These beings knew all about astronomy, like the precise location of planets in the sky, and their positions and influence on humans. They knew how to cure diseases through the use of plants and herbs, and they were able to perceive how nature operates with its rhythms and cycles.
Ayus = knowledge and

Veda = life
Below is a short clip from the History Channels most popular show, Ancient Aliens. This episode is titled "Alien Operations" and is about Ayurvedic surgeries performed by the Gods.
But just who were the practitioners of this extraordinary knowledge? And where did their knowledge of the body come from?
This episode asks if it's possible that these Gods may have been extraterrestrial beings who came to Earth to teach humans how to heal themselves.
Ayurveda is the knowledge or science of life
Ayurveda offers life-promoting wisdom designed to help you stay vital while realizing your full human potential. Furthermore, it gives guidelines on daily living and seasonal routines, diet, and the healthy use of the senses.
Ayurveda recognizes that health is a dynamic integration of body, mind, and spirit with your environment. It offers a body of wisdom designed to help you stay vital while realizing your full potential.
The Laws of Nature Affect Your Life
According to Ayurveda, there are laws of nature or a cosmic intelligence that governs the growth of all living things.
For example:
Puppies grow into dogs…
Kittens grow into cats…
Acorns into oak trees.
and babies grow into adults.
From the tiny world of whirling atoms to the huge world of galaxies, there are timeless laws of nature or a cosmic intelligence that regulates everything. Consequently, this makes Ayurveda as relevant today as it was over 5000 years ago.
The goal of Ayurveda is to live in harmony with cosmic intelligence. Then your own intelligence is heightened as a result.
Mother of All Healing
Ayurveda is often referred to as the "Mother of all Healing". It influenced Chinese and Tibetan medicine and the humoral medicine practiced by Hippocrates in ancient Greece.
In fact, the basic principles of allopathy and homeopathy all have roots in Ayurveda.
Ayurveda evolved in a time when medicine and philosophy were one and the same. As a result, this is likely why philosophical views are found throughout Vedic thinking.
How Does Ayurveda Work?
Ayurveda recognizes that we are a microcosm of the macrocosm. In other words, we are a small part of the universe and our bodies have the same 5 elements or energies as the world around us. These are the same energies or forces that animate and move the oceans, stars and the planets.
You have a unique constitution (body/mind type). This is the foundation of Ayurveda. Therefore, your constitution is related to 3 vital energies and 20 qualities within your body unique to you.
If you are living in harmony with the laws of nature illness and disease can't touch you. However, if you are living out of harmony, you will be more susceptible to illness–both physical and mental.
What are Doshas?
The three vital energies in your body, are known as doshas or Vata (wind)  Pitta (fire), and Kapha (earth or structure). This mix is your unique constitution.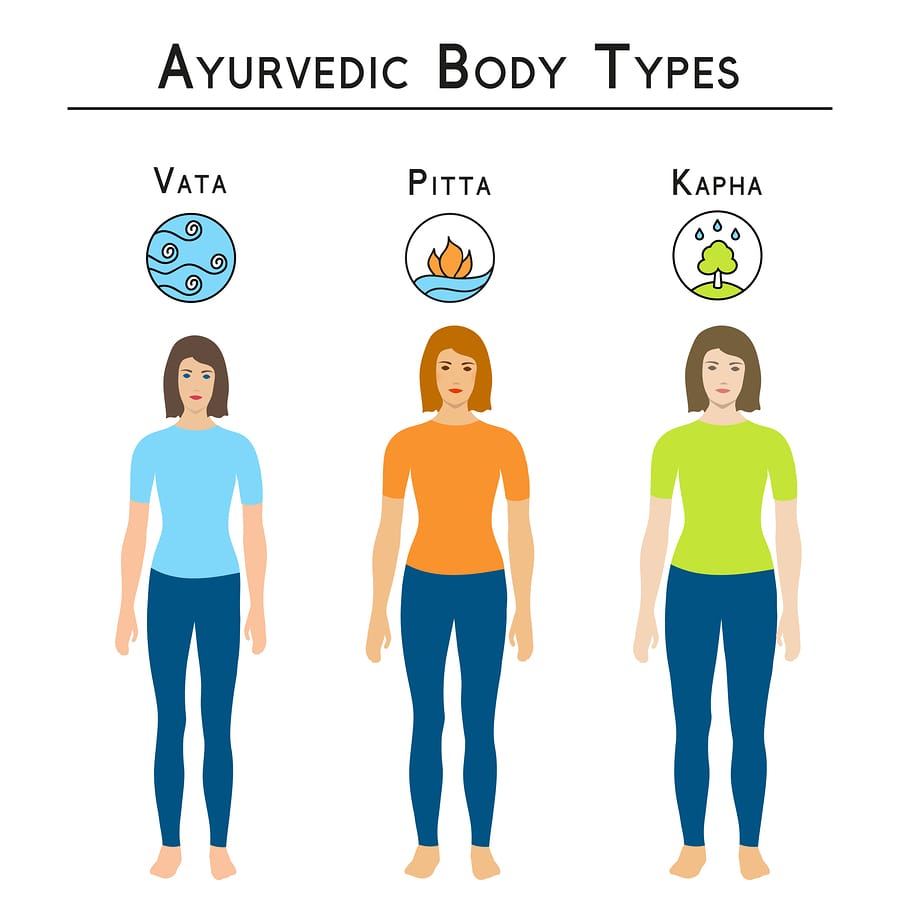 If Vata is dominant in your system, you will tend to be light, thin, enthusiastic, energetic, and changeable.
If Pitta is dominant in your system, you will tend to be intelligent, intense, and goal-oriented. You will have a strong appetite for life.
If Kapha is dominant in your system, you will be emotional, easy-going, methodical, and nurturing.
The doshas (or a mix of elemental energies) determine your characteristics, like the shape of your body, the color of your eyes and hair. Furthermore, even your cravings for certain foods, and how your mind works is due to your unique mix of doshas.
Although each of us has all three forces, most people have one or two that dominate. All of Ayurveda revolves around knowing who you are, so find out here:
Ayurveda and Yoga are Sister Sciences
Ayurveda is the healing side of yoga. Yoga is the spiritual side of Ayurveda. Ayurveda and Yoga developed together and
complement one other perfectly.
What is Ayurveda about? Ayurveda is about the science of self-healing! Its focus is to alleviate disease and restore health so that you have the necessary energy to pursue the spiritual goals of Yoga. For instance, it's very difficult to focus on spiritual growth if you are tending to a sick body or mind.
In fact, Ayurveda and Yoga are so connected that you can't fully practice one without practicing the other. Combining the wisdom of these two sciences gives you a complete approach to physical, emotional and mental health.
Ayurveda and Chronic Diseases
Western medicine focuses on curing specific symptoms. Therefore, it's awesome at what it does best which is acute care. You don't want to go to an Ayurvedic practitioner for emergency-type conditions. Go to your primary doctor or ER straight away.
But for treating chronic diseases Ayurveda has way more to offer. Almost all chronic conditions just call for a diet and/or lifestyle change to heal.
Now do these Ayurvedic rituals everyday to improve your health.

Ayurveda focuses on treating the root cause. It brings the body back into balance so your symptoms disappear.
Any symptom you may be experiencing is a signal or message that you are living out of balance with the laws of nature.
Yet, symptoms are your friend. Since they get your attention, they give you an opportunity to course correct.
There is also a great emphasis on prevention of disease and a positive way of living. Most of all, Ayurveda is a holistic way of life…which just means that you're taking care of all parts of yourself. You recognize that when your body is thriving, so is your emotional/mental health/spiritual health.
What is Holistic Health?
Your natural state is one of health, happiness and an inner sense of well-being.
Ayurveda defines health as being clear of toxins, a peaceful mind, and calm emotions.
When all these things are in harmony, you experience health. When they are not, you experience symptoms or diseases.
Ayurveda is the practice of creating harmony. Where there is harmony there is health. Where there is disharmony, there is disease.
"As long as we are not living in harmony
with nature and our constitution, we
cannot expect to be really healed.
Ayurveda gives us the means."
~David Frawley
Ayurveda Lifestyle Products