Dull, sallow, ruddy, dry, discolored, sagging, puffy, and wrinkled skin are signs of premature aging. By the time we hit middle age, most of us have spent thousands of dollars in search of the best face moisturizer for aging skin, only to be disappointed.
There's no shortage of skin care product companies to choose from, right? It's just that a lot of skincare claims are just puffery and they don't deliver on their lofty claims.
But there are others like "The Ayurveda Experience" that follow six thousand years of holistic wisdom. Ayurveda recommends "If you cannot eat what is in the bottle, do not use it on your skin".
These iYura face oils are made with 100% pure, organic herbs and oils. They contain zero chemicals, fragrances, toxins, heavy metals, parabens, additives, palm, or mineral oils.
Two of the best face moisturizers I have found for my aging skin are Kesaradi Oil (daytime) and Manish Glow Elixir (nighttime)
Best Face Moisturizer For Aging Skin 
iYura Day & Night Face Duo Ayurvedic Skincare Set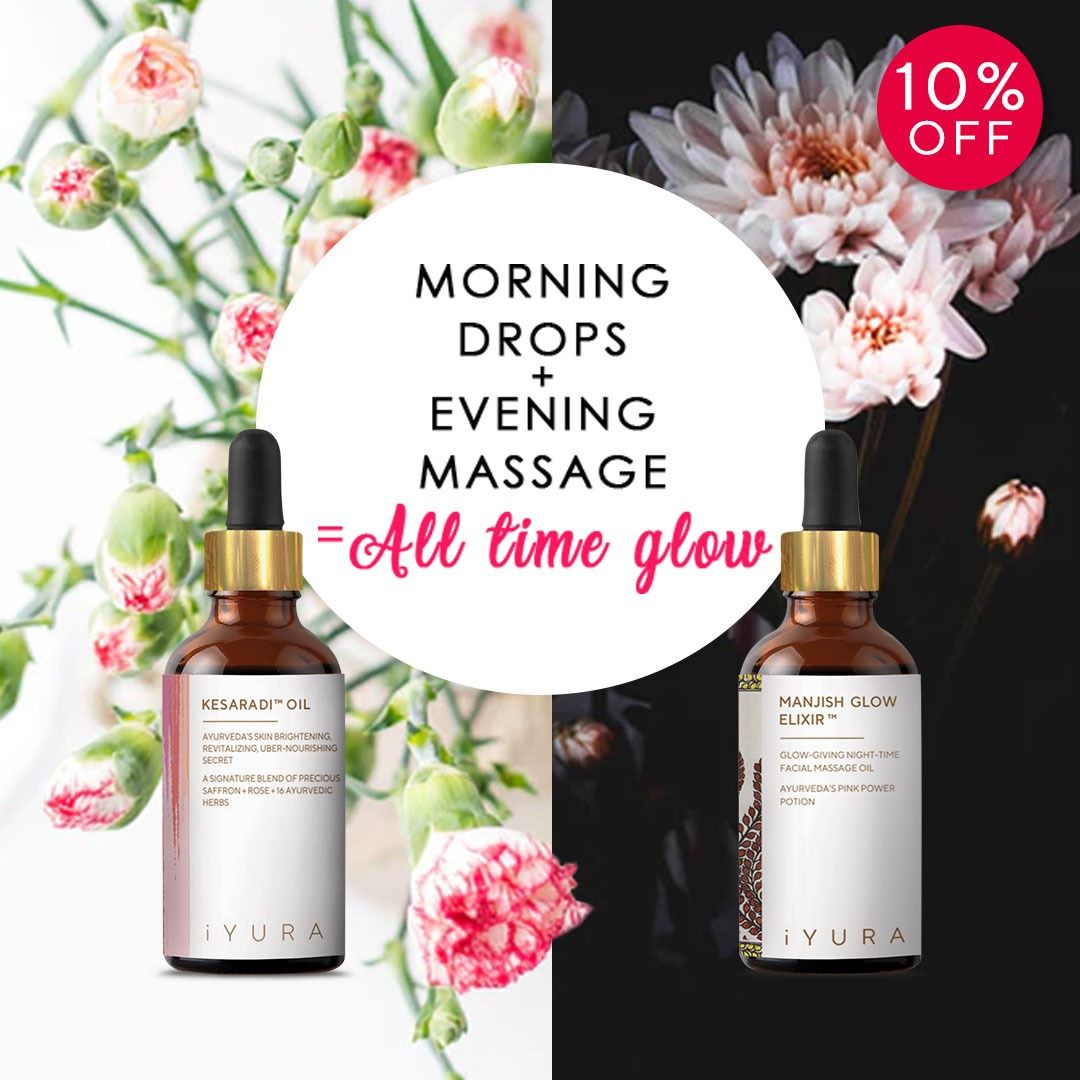 Kesaradi Oil
Let's look at Kesaradi Oil first.
Use just 3 drops of Kesaradi Oil each morning. It's a signature blend of precious Saffron + Rose + Turmeric and 16 more potent herbs and flowers.
Saffron
Saffron is the world's most expensive spice ever! It contains vitamins B2, B3, B6 and is superb for skin and hair. It works wonders for good color and complexion and gives your skin an even-toned look.
Rose
The queen of flowers, Rose, is a complete complexion enhancer. Traditional Ayurvedic texts describe these benefits for Rose:
Promotes good complexion (especially for dullness-prone skin)
Cooling
Reduces inflammation
Beauty enhancer
Turmeric
Known as the "Golden Spice", Turmeric is one of the most powerful spices in Ayurveda.
According to Ayurvedic texts, turmeric:
Improves complexion
Gives a good color tone to the skin
Clean and clear appearance to the skin
Kesaradi oil brings not only these 3 powerful skin-rejuvenating ingredients together, but also brings a total of 19 ingredients with 16 Ayurvedic herbs which have a stellar reputation when it comes to skincare.
Manjish Glow Elixir
Now we'll look at Manjish Glow Elixir made with Indian Madder, Wild Lemon, and Butter Tree.
Manjish Glow Elixir is used at night. Just 4 drops of this beautiful pink-colored elixir will do wonders if you have oily skin or dull, uneven skin tone.
It's not a heavy oil, but it does have highly effective ingredients like Manjishtha, Mahua, Lemon, Licorice, Cow milk, and Sesame Oil.
To quote ancient Ayurvedic texts: "Massaging with this oil helps the appearance of spots. It evens the skin tone and eases the appearance of wrinkles. Massaged for seven consecutive nights, it makes the face glow as if it were gold!" (No – your skin won't turn golden in color, but it does speak volumes about the healthy, natural glow it will bring to your skin.
You can expect:
Improved skin texture and tone
A deep, natural glow
Reduced appearance of age spots and aging skin
Radiant, dewy, smooth skin
Moisturized skin
Luminous complexion
The Promise
You will see and feel an immediate improvement in your skin because the ingredients are alive, nutritive, healing, and soothing all at once
. This is my conclusion and standard, based on years of studying Ayurveda, and I recommend these products to you as well.