This Rufolia Periorbital Eyemulsion review explains everything about this one-of-a-kind Ayurvedic formula for dark circles and puffiness around your eyes and sensitive under-eye skin.
Give it a quick read to learn about this product's beneficial ingredients and the reasons and benefits to help you decide if this product is for you. And, if you do decide to purchase, please use our discount code MOH10 for 10% savings. 
Do you want to reduce the appearance of dark circles and puffiness around the delicate skin of your eyes?
If so, you may want to consider using Modernica Rubolia Periorbital Eye Cream. This Ayurvedic product has been gaining popularity lately and for a good reason! There are already over three hundred five-star reviews on The Ayurveda Experience.
In this detailed review, we will look closely at all of the anti aging ingredients in Rubolia Periorbital Eye Cream and see how they can benefit the dark circles, sagging skin, and uneven skin texture under your eyes.
What Are The Ingredients in Ruifolia Periorbital?
Rufolia Periorbital Eyemulsion is a breakthrough Ayurvedic under-eye butter formulation. It's the best of traditional Ayurvedic oils and Modern Science together by combining Manjistha and Aloe Vera with Hyaluronic Acid and Niacinamide.
This one-of-a-kind formula around is an amalgamation of traditional and modern ingredients working together to reduce and brighten genetic dark circles under your eyes.
It has brightening and hydrating benefits for youthful, moist skin, plus an instant skin barrier with a soothing and moisturizing effect not just under your eyes, but all around them.
Full and Complete List of Ingredients
Aqua
Sesame Seed Oil
Cetearyl Olivate
Glycerin
Sorbitan Olivate
Sunflower Seed
Shea butter
Niacinamide
Shea Butte
Stem flower Extract of Indian Madder
Sacred Lotus Seed Extract
Aloe Vera oil Gel Extract
Hyaluronic Acid
Dehydroacetic Acid
Rose Flower Oil
Geranium Flower Oi
Benzyl Alcohol
Geranio
Citronellol
Benefits and Reasons to Try Ruifolia Periorbital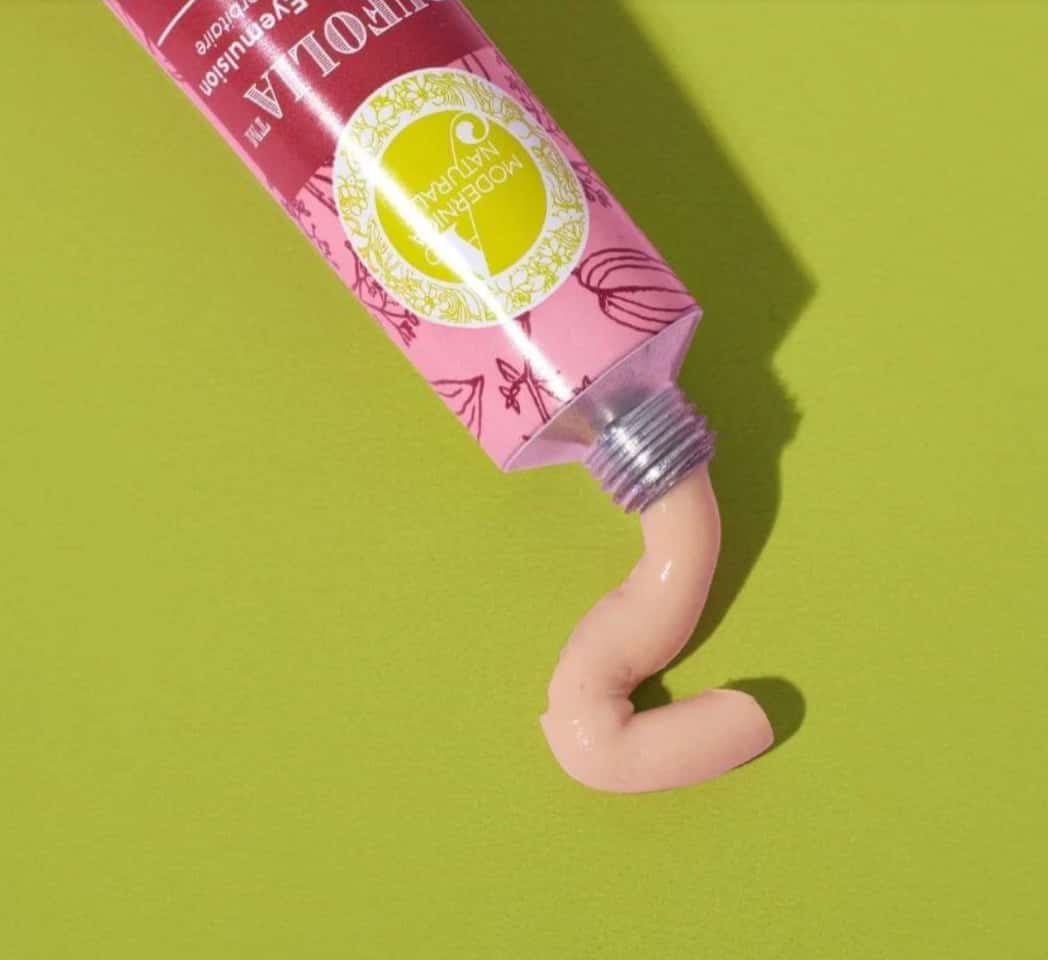 This Modernica Naturals eye cream has a velvety-matte finish. It's creamy, but not at all oily so it doesn't feel sticky. It has a unique pinkish color that blends well with all skin tones and skin types without leaving any white cast.
If you wear foundation, it does not make makeup look creepy or dry and never collects or creates patches of uneven skin tone. You will see a difference in your skin and that's what it is all about.
Here are more reasons to try Rufolia Periorbital Eyemulsion:
Dermatologically tested
Free of harmful chemicals, parabens, sulfates, etc.
Bacteria-free
No artificial fragrance
No added colors or dyes
Vegan-friendly
Not tested on animals
30-day money-back guarantee
Mainly formulated for sensitive periorbital skin, that reveals aging
Modern skin science combined with traditional Ayurvedic skin formulations
What Are the Benefits of Rufolia Periorbital?
After adding Rufolia Periorbital to my night skincare routine, here's my list of benefits:
Gentle yet intense moisturization, toning, and soothing
Deep hydration and plumping with Hyaluronic Acid
The Niacinamide gives glowing skin and good skin tone
The combination of Aloe Vera Gel Extract and the Ayurvedic herb, Manjishtha works well to cool, moisturize, and tighten the eye area
It absorbs well into your skin and leaves no shiny effect.
How to Use of Rufolia Periorbital Eyemulsion?
Rufolia Periorbital Eyemulsion can be used at night to minimize puffy eyes and dark circles. It also works on wrinkles and fine lines (early aging signs) in the entire orbital area.
Here is how you can apply Rufolia Periorbital Eyemulsion:
Squeeze out three small dots of this excellent emulsion and apply it gently by spreading in the sensitive skin areas; under the eye, eyelids, and crow's feet (the fine lines around the eyes).
Be cautious when applying; apply it away from the eyes. Also, don't apply it on wounds, rashes, or cuts.
Minimize dark circles by massaging gently in C-pattern, starting from the under-eye covering the entire crow's feet area and the eyelids too. Keep on massaging in the same way until the emulsion fully absorbs.
Leave it applied overnight.
Wrapping Up Rufolia Periorbital Review
I've tried plenty of eye creams over the years but Rufolia Periorbital Eyemulsion is one of the best products to use for getting rid of dark circles under your eyes, eyelids, and the crow's feet area
.
The Ayurveda Experience Eye Cream Reviews
There are hundreds of 5 Star Reviews!
Debra V.
United States 
Really Delivers!
This is now my go-to eye cream. I was not liking the look of my eyelids and with just a few applications, I see a smoothness of my lids. It also is doing wonders under my eyes! Will be ordering more!
Age
66
Victoria P.
United States
I think this is working
I only use a tiny bit around each eye and the tube seems to last a long long time. It goes on very easily and absorbs well. I believe it is working to moisturize the eye area and if I get enough sleep my dark circles are a bit less. The effects are not super obvious but I would keep using.
Age
52
Diane A.
United States 
Just placed my second order
I am placing my second order for the Rufolia Periorbital Eyemulsion. I am very impressed with the results after using it for a little over a month. My under-eye skin is brighter and my eye bags are less noticeable. I am confident with continued use it will look even better!