I'm starting to harvest kale from our garden and looking for alternatives to the usual processed snacks. These crispy oven baked kale chips are delicious and easy to make. You just need to keep a few things in mind before you start:
First, you need the right combo of oven temperature and cooking time. Keep a close eye on these chips because they can burn very quickly.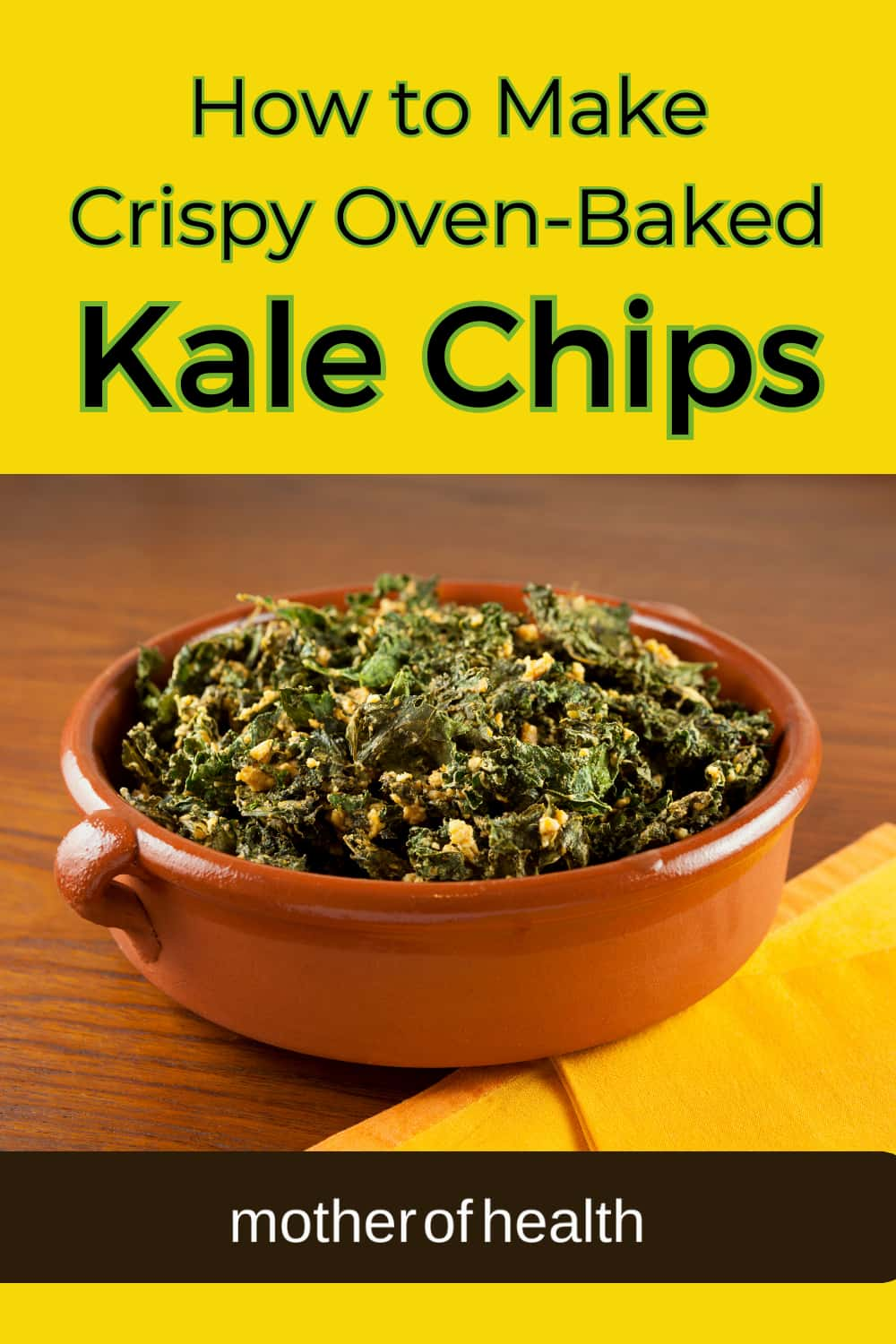 I discovered that a 325-degree oven for between 6-7 minutes is all you need to yield crispy chips that are not too soggy or bitter and brown. But, all ovens are different, and you will need to test this carefully in your own oven to find the correct balance.
Next, before you pop them in the oven make sure the kale is completely dry. If you leave moisture on the leaves, it can lead to soggy chips. Also, do not overdo the olive oil which can have the same outcome.
Add a small amount of oil and then massage it until all the leaves are very lightly coated. Add very small increments of oil until you find the right balance.
Finally, experiment with the right combination of seasonings. Sea salt is ideal and perfect, but you can also add garlic powder, smoked paprika, nutritional yeast or a little ground cumin to add depth and flavor.
Crispy Oven Baked Kale Chips
Crispy Oven Kale Chips
These crispy oven kale chips are a delicious, low-calorie, healthy snack. They are the perfect snack to have on hand when you want something crispy, but not processed.
Ingredients
2

large

Bunches of kale

Tough stems removed and torn into chunks

2

tbsp

Extra virgin olive oil

1

tbsp

Smoked paprika

2

tsp

Garlic power

2

tsp

ground Cumin

2

tsp

Nutritional yeast

Sea salt to taste
Instructions
Preheat oven to 325 and line a large rimmed baking sheet with parchment paper or a Silpat baking mat. Set aside.

Wash kale leaves and dry completely before adding to a large mixing bowl. Drizzle with a little olive oil and toss to combine while rubbing each leaf with your fingers to make sure it is evenly coated in oil.

Sprinkle the smoked paprika, garlic powder, and cumin on top of kale and season with sea salt, to taste. Toss until evenly combined.

Arrange seasoned kale leaves on a prepared baking sheet in a single layer, being careful to not overcrowd them. Work in batches, if necessary.

Place baking sheet in a preheated oven and bake for 5-6 minutes before rotating the pan. Bake for another 1-2 minutes. Do not overcook. Remove chips from the oven when they are mostly green, with only a tiny bit of brown developing.

Let chips sit for 2-3 minutes to crisp up a bit more before serving. Enjoy!
Frequently Asked Questions About Kale Chips
Are Homemade Kale Chips Healthy?
Unlike potato chips, kale chips are a nutritional powerhouse! Packed with fiber, antioxidants, vitamin A and calcium, plus B vitamins, vitamin C and potassium, they're the perfect snack for health conscious folks. And don't worry about fat or sodium levels – a little olive oil and salt is all you need to make these babies delicious.
Why are Kale Chips Expensive?
Kale chips are a delicious snack, but they don't come cheap! Raw cashews and nutritional yeast form the base of most store-bought brands, and because they're labeled as 'raw', they need to be dehydrated to get that crunchy texture – which takes forever. So if you're looking for a tasty treat, be prepared to pay up or make your own!
How Do You Keep Kale Chips Crisp?
For the perfect crunch, it's important to store your kale chips properly. Let them cool off completely, then pop them in an airtight container, and they'll stay fresh and crispy for up to three days!
Is it Okay to Eat Kale Chips Every Day?
Kale is packed with fiber, which is awesome for your digestion, but you have to be careful not to overdo it. Too much kale chips (or any other food) can lead to bloating, gas, and constipation. So, enjoy kale in moderation.