During the winter season, many people complain about the feeling that they have much more sensitive skin. And this is true! Our skin suffers due to very low humidity and temperatures outside. Without proper winter skincare, we are vulnerable to rashes, dry and even cracked skin.
That's why our skin needs special winter skincare.
So, what can we do to take better care of our skin in cold weather?
After consulting several expert opinions in the field, and going through numerous health platforms like gym-expert.com, here are the Top 10 winter skincare tips that will make your complexion shine a light on the cold weather outside:
10 Rules for Winter Skin Care You Should Follow
1. Exfoliate Regularly
By exfoliating, not only will you remove dry, dead cells, which tend to be rough to the touch, but you will also favor the formation of new cells. This is one of the most important winter skincare processes that need to be conducted as often as possible. Moreover, the process will allow any type of moisturizing cream to work better, being absorbed by the skin much faster. And this way, your skin will stay hydrated for a much longer period.
Exfoliating the skin at least twice a week is highly recommended. For this, you can use a natural exfoliating mask or scrub, such as oatmeal mixed with milk and honey. If you have oily skin, then the best winter skincare exfoliation for you would be by using baking soda and water.
2. Moisturize All Day Long
The best products for dry skin in winter are concentrates. They contain concentrated active ingredients that are highly potent because they are fast-absorbing yet lightweight. They are perfect for treating dry, stressed, and tired skin because of their amazing anti-aging effect.
The concentrate you choose should moisturize the skin and protect it from the cold outside air. You should also choose a similar body lotion, which must be applied immediately after the shower before wiping with the towel. Both are essential winter skincare items that you should not miss during the cold season!
3. No Steaming Hot Showers
Although hot water showers may seem the most suitable during winter, remember that they can dry your skin out. Cold or cool water can make your skin healthier, so consider the health benefits of cold showers. How water can aggravate your skin's condition, so the water should be at least tepid for the healthiest skin possible.
And to ensure a smooth winter skincare passage from cold to warm and help your skin relax, you should apply a moisturizer as soon as you've finished the shower.
4. Revitalizing Masks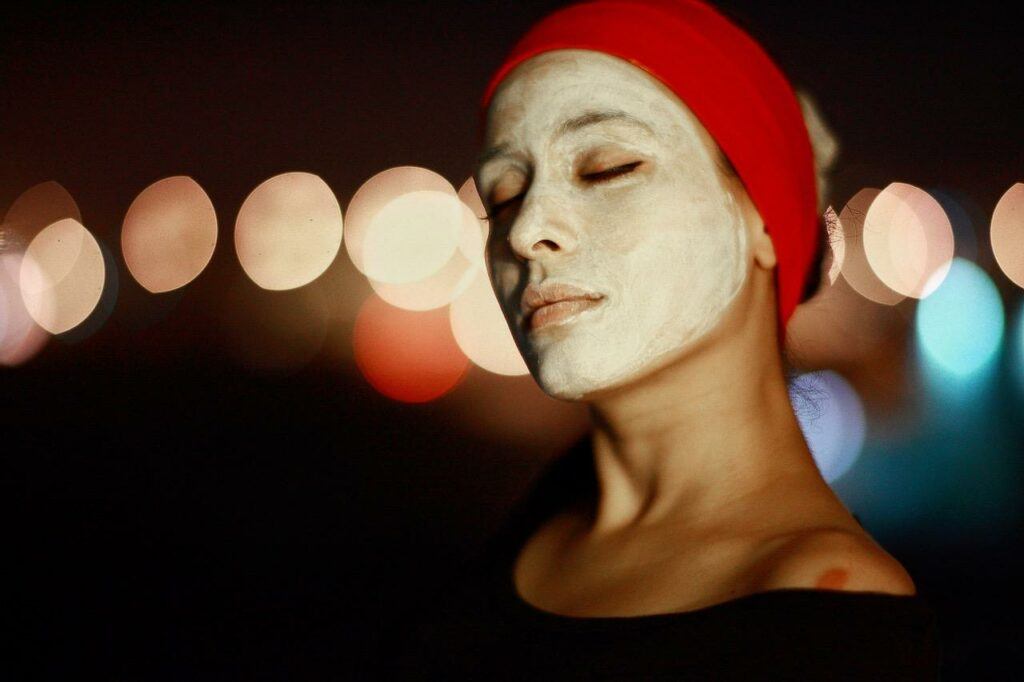 The most "productive" time for beauty treatments is from 9 pm to 11 pm. It has been proven that it is at this time that our skin has the highest potential for absorbing substances applied to it.
During mask application, try to lie down, close your eyes, turn on calm music and just dream about something pleasant. If you can't lie down, try to take a comfortable, relaxed position and also delve into pleasant dreams. Positive emotional experiences can increase the absorption of nutrients by the skin by as much as 7%, and this, believe us, is quite a lot.
This regenerating mask will instantly "revive" the skin, fill it with microelements, polysaccharides, and flavonoids, and activate the internal regeneration processes. In winter, support your skin twice as often with moisturizing masks. This mask activates the skin's natural hydration mechanisms, providing both fast and long-term skin hydration effects.
The frequency of mask application varies as follows: for dry and sensitive skin, it is recommended to use masks 2-3 times a week; for oily or combined skin, it is enough to apply them once a week.
Related post: How to Make a Homemade Face Mask
5. Protection from Cold and Wind
For this purpose, a nourishing, protective day cream is suitable. Daytime products should have protective functions and contain UV filters. The vegetable oils that make up their composition will create a barrier that can protect your skin from frost. Fruit and berry extracts will restore the barrier, moisture-retaining, and immune functions of the skin with an anti-inflammatory, soothing, and healing effect.
Also, cosmetics will come to the rescue. The optimal protection, allowing the skin to breathe easily, is a foundation. Use it for winter skincare. It physically prevents cold air from entering it. If you add the powder to the cream, then the protection from frost will be much stronger. When choosing foundation and powder, consider the small changes that occur to your skin in cold weather.
6. No Alcohol
Regardless it is for hair care or winter skincare products, try to stay away from products that include alcohol. When the alcohol evaporates, you will feel that your skin is invigorating but also cooling-off right afterward. Given the fact that we are already exposed to the cold temperatures outside, it is not advisable to "push" this sensation and exposure to the next level.
7. Use Lip Moisturizer
Much like the skin, the lips also suffer from the harsh winter cold. Therefore, a good-quality lip balm should not be missing from your winter skincare kit! It is best to choose one that has SPF 15 protection factor, as well as antiseptic substances, to help heal cracked lips. A highly recommended balm for cracked lips is the one that contains tea tree oil.
8. Protect the Delicate Skin of the Eyelids 
Do not forget to care for the delicate eye area in the morning and evening. These are the most vulnerable areas of our skin, where all troubles, both external and internal, immediately become visible.
The eyelids' skin is very thin, delicate – that is why there are special products for eyelid skincare. They are designed to moisturize and nourish the eyelids' delicate skin, make it more elastic and smooth, eliminate dark circles and puffy puffy bags under the eyes. It also helps to strengthen the skin, preventing or eliminating such small wrinkles.
First, regularly and thoroughly cleanse your eyelid skin from makeup. It is better to do this with a special cleanser for removing eye makeup or micellar water, a cream for washing, or an alkaline gel. Use your eye cream in the morning and evening: in the morning as a protection and makeup base, in the evening as a skin restoration.
9. Don't Forget About Hands
And when you put together your skincare for cold weather plan, you shouldn't forget about your hands, feet, elbows, and knees. Much like facial skin, all of them require special winter skincare during the cold season. A good hand repair cream with shea butter and sesame oil works well because it is deeply moisturizing. Make sure to choose one without phthalates, paragons or petrolatum. 
10. Drink Water
If you have very dry skin in general, you should consider applying moisturizing face cream or concentrates throughout the night as well. Night creams usually contain recommended ingredients that repair the skin, such as avocado oil, which penetrates the skin while you sleep and hydrates it intensely.
But more importantly, you should make sure to drink enough water daily and generally stay hydrated at all times.
Conclusion
The winter period is a serious test for the skin: it becomes drier, irritated, and sensitive since cold air is one of the most aggressive environmental factors that can damage it. When entering the street, the vessels react to cold air with expansion – from this, the face turns red. Further, with a long stay in the cold, the blood vessels narrow – the blood supply to the tissues deteriorates, the metabolism decreases, and the nutrition of the skin is disturbed. The stratum corneum thickens during the cold season in an attempt to protect itself from low temperatures. We hope our tips will help you with your winter skincare.
Tell us about your favorite winter skincare hacks. What is most important to you? Please share your experience in the comments.
Bio: Archibald Adams
Archibald Adams was a builder for more than 40 years. After his retirement, the enthusiastic electrical has become a vegetarian on his homestead. He is happy to keep a healthy way of life with his garden and self-built kitchen. He writes for the blog gym-expert.com to share the idea that it's never too late to make some healthy changes in your life.