As a natural health lover, I'm sure you prefer to use food as medicine over pharmaceutical drugs. Yet, you may not know which herbal remedies do what or how to get them into your diet. Every day my inbox has at least one or two emails from someone wanting to know more specific herbs for common ailments. In this post we'll answer the question, what are the benefits of cinnamon? Also, I'll share some yummy recipes and creative ways to add cinnamon to your daily diet.
But first, a little background on this miracle spice:
Believed to have been around since 2000 B.C. cinnamon may be one of the oldest spices in history. It goes all the way back to Egypt and then spread to Europe in the Middle Ages.
Cinnamon is a type of spice that comes from the Cinnamomum species of trees. The trees are somewhat small to medium height between 10 to 15 feet and have a soft bark. The two types of cinnamon
commonly
used: Ceylon and Cassia
Cinnamon has many nutrients, which is one thing that people often don't realize. A serving of cinnamon is about a tablespoon. Although, you can use less and still reap its benefits.
You get the following nutrients when you add more cinnamon to your diet:
Cinnamon also has lots of antioxidants and many other health benefits. There are only 19 calories in a tablespoon of cinnamon, and no sugar or fat.
According to Ayurvedic medicine, cinnamon pacifies Vata and Kapha but may increase Pitta if used in excess. It is sweet, pungent, bitter and heating.
In their most excellent book, The Yoga of Herbs, Dr. David Frawley and Dr. Vasant Lad write: Cinnamon is an effective herb for strengthening and harmonizing the flow of circulation (vyana vayu). It is a good diaphoretic and expectorant in colds and flu and is especially good for those of weak constitution. And a pain reliever for a toothache and muscle tension. It strengthens the heart, warms the kidneys and promotes Agni (digestion). 
Keep reading to learn more about the health benefits of cinnamon and why you should include it in your diet.
What are the Benefits of Cinnamon?
1. It Improves the Health of Your Heart
We are going to start with your heart health since this is one of the top benefits of cinnamon.
The best-known benefit of cinnamon is that it aids in blood circulation. Not only does proper circulation benefit your skin, but it also benefits your heart.
Additionally, cinnamon can reduce your chance of developing heart disease.
Studies
show that cinnamon may minimize damage to your heart by slowing the fat-storing process in the body
.
After you eat a high-fat meal, the levels of fat in your blood (triglycerides) rise. And as you may know,
chronically
high triglycerides in your blood raise the risk of heart disease.
Researchers fed rats cinnamon for 12 weeks along with a high-fat diet. After 12 weeks they found the rats fed cinnamon had less belly fat, compared to the rats who did not.
How to Add Cinnamon to Your Morning
A simple way to use cinnamon every day is to add it to your morning routine. If you use the cinnamon first thing in the morning, then you don't need to think about it for the rest of the day. This can be anything from a cup of coffee, tea, or hot cocoa to your morning oatmeal.
For oatmeal, you'll want to add it to the cooking water along with a little vanilla. Then top with a splash of maple syrup for a yummy, healthy breakfast.
If you are a coffee drinker, then try this Ayurvedic Coffee with cinnamon and cardamom. Simmer together:
Ayurvedic Coffee
3 Cups of water
3 Cups of milk (I like to use nut milk like almond)
2 Cinnamon sticks
5 Cracked Cardamom pods
2 Tablespoons of coffee
Boil water and then add ground coffee. Reduce heat to simmer and add milk, cinnamon, cardamom. Stir frequently to combine everything into a frothy delicious coffee. Strain and enjoy.
Different body types may react differently to coffee based on their constitution. For instance, Kapha types with slower metabolism seem to tolerate it best. But if you have a Vata or Pitta constitution, your body may not tolerate coffee as well. Vata types are already over-stimulated, and it can quickly deplete them. And for Pitta type, it can be too acidic and heating.
But regardless of your body type, from an Ayurvedic perspective, both cinnamon and cardamom help to antidote the negative effects of caffeine.
Apple Cinnamon Infused Water
You can also make an Apple Cinnamon Infused Water by adding 2 Ceylon cinnamon sticks to 1 liter of water along with two sliced apples and lemons.
An infusion pitcher with a wide opening like this one works best.  Slice both apples and lemons into thin strips or wedges, and place them in the pitcher. Add the two sticks of cinnamon and pour it in the water. Drink the mixture within 36 hours.
2. You Can Reduce Inflammation
The next significant health benefit of cinnamon is that it can reduce inflammation in your body. This is a lot more important to your health than you might imagine.
Cinnamon is a natural anti-inflammatory that reduces heat in various parts of your body, from your heart and brain to your skin.
If you have been struggling with chronic pain, muscle soreness, or high blood pressure, it is possible that inflammation is the reason.
Doctors may try to change your diet to reduce inflammation without medication, but another simple way to use cinnamon more often
. It is nice that such a healthy spice is also delicious and adds fantastic flavor to
just
about anything you eat.
Sweet Treats That Use Cinnamon
Do you have more of a sweet tooth? If so, it will be
effortless
for you to eat cinnamon more often.
It's possible to make sweet treats more healthily as well. Many recipes help you create a baked good that without sugar or carbs.
For instance, here's an Apple-Crisp Baked Apple recipe from Thrive Market that you can feel good about eating
.
Apple-Cinnamon Crisp Baked Apples
Yield: 5 Servings
Active Time: 20 minutes
Total Time: 45 minutes
INSTRUCTIONS
Preheat oven to 375 degrees
Make the crumble topping
Mix together the almond flour, pecans, and salt in a medium bowl. Add vanilla, maple syrup, and ghee, and mix to combine. Set aside.
Make the filling
Heat ghee in a large skillet and saute' 4 chopped apples until they begin to soften. Add honey, cinnamon, lemon zest, and vanilla, and simmer, stirring often, until the apples are cooked through. Stir in dried cranberries and remove from heat.
Assemble the apples
Slice the tops off and scoop out the insides of the 5 remaining apples in a pie or baking dish and fill with the cooked filling. Top each apple with the crumble topping. Pour apple juice into the bottom of the baking pan and place in oven to bake until the apples are soft and the topping is golden brown about 25 minutes.
Serve warm, and if desired, drizzle with honey or maple syrup and a dollop of coconut whipped cream.
Or if that's too much work for you, try cinnamon or a smoothie with fruit, Greek yogurt, or almond milk.
3. Cinnamon Helps With Diabetes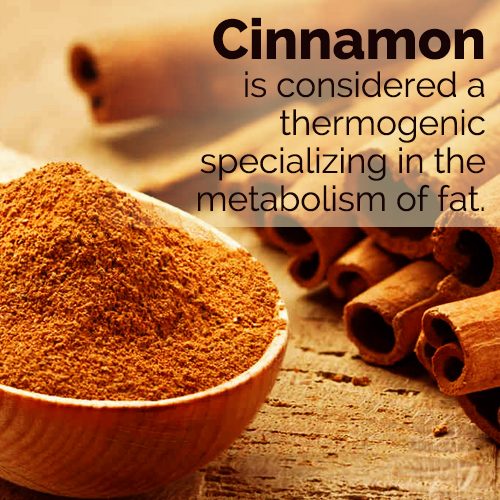 Cinnamon helps
specifically
with type 2 diabetes. You may know that Type 2 diabetes is a condition where you develop a resistance to insulin. It's either the liver is
continuously
producing glucose, or the cells in the body can no longer detect insulin.
Cinnamon has a significant effect on your blood sugar by increasing the entry of glucose into the cells to lower serum glucose levels.
One of the major causes for developing Type 2 diabetes is due to lack of exercise and obesity.
While there is not currently a cure for type 2 diabetes, there are many ways to manage it and even heal it with natural remedies and exercise
.
For diabetes, the advised dosage of cinnamon is about 1 1/4 teaspoons for five days, with two days of rest.
For cinnamon sticks, it's best to make a tea to get the full effect. You can make a cinnamon stick tea by boiling two cups of water. Add two Ceylon cinnamon sticks, and simmer it for 15 minutes or until the color of the water is light brown. You can drink this straight or add a sweetener like stevia or honey.
4. You Get a Boost of Antioxidants
Who doesn't want more antioxidants in their diet?
The reason antioxidants are vital is that they protect you from damaging free radicals
.
They fight infections and diseases, reduce how often you get ill, and protect everything from your heart to your skin
.
There are many antioxidants in cinnamon, including flavonoids, polyphenols, and phenolic acid. These are all important for your body and skin, including reducing how rapidly you age.
Flavors to Have with Cinnamon
If you are still looking for more ways to use cinnamon in your diet, consider savory and sweet flavors. Here are some flavors to consider combining cinnamon with:
Nutmeg

Cloves

Allspice

Pecans

Maple syrup
Try these types of flavors in both savory and sweet recipes to get your boost of antioxidants.
5. It May Lower Your Cancer Risk
This is one of the more surprising health benefits of cinnamon. While it's not a cure for cancer, there's nothing wrong with adding it to your diet to lower your risk
Cancer comes down to so many things, from genetics to your current health and lifestyle. Often, doctors never discover why you even get cancer.
But, studies have shown that cinnamon has certain extracts that might protect against this disease
.
These include studies that show cinnamon reduces the growth of cancer cells in blood vessels
. And it can provide enzymes in the colon that produce natural detox effects.
The extra boost of antioxidants also helps with reducing your risk of getting this dreaded disease
.
Cinnamon with Fall Fruits and Flavors
While you can have cinnamon year-round, one great way to use it is with your fall flavors.
You already know about using cinnamon with fall spices like nutmeg and clove, but what about other fall foods
?
Here is a list of fall Superfoods and flavors that taste wonderful with cinnamon:
Apples

Pumpkin

Butternut Squash

Sweet potatoes
You can incorporate healthy foods into your diet with a dash of cinnamon to get plenty of health benefits
.
Potential Side Effects of Cinnamon
Now that you know all about using cinnamon more in your diet and how it can help your health, let's talk about the side effects
. No matter what you eat or how healthy it is, there are bound to be some drawbacks. Cinnamon is no different, but the good news is that the side effects are very minimal. Most people can handle cinnamon on a daily basis, so you shouldn't have to worry about any adverse effects.
Yet, it is always good to be aware of what to expect if you are not accustomed to using cinnamon in your diet. It is best to start with a sprinkle of cinnamon to see if it has any adverse effects for you.
Some people might have an allergic reaction to cinnamon. If you are not sure if you're allergic to it,
just
use a minimal amount. If you notice a weird tingling in your mouth or lips, it might be an allergic reaction. You might also notice some redness, especially on the skin where the cinnamon touched.
In this case, you should stop using it immediately and see if your doctor if you notice these types of symptoms.
Interactions with Medications
You should also be careful with cinnamon and any medications you are taking.
This should not be an issue while eating foods with cinnamon, but if you decide to try cinnamon supplements
.
The Conclusion of What are the Benefits of Cinnamon?
I hope this post helped you learn about cinnamon and its benefits.
It's
truly
fascinating to know that there's so much potential for the use of this spice to achieve health and wellness
.