Cellulite affects about 85 percent of females, representing all sizes and shapes. It often appears on the thighs, legs, stomach or buttocks. If you're struggling with cellulite and are looking to rid your body of the cellulite, you are in the right place. Let me show you how to get rid of cellulite quickly and naturally.
Cellulite is a condition in which your skin has a lumpy, dimpled appearance. It's made up of free-floating fat cells, which are deposited just under the skin.
Common names for cellulite include hail damage, cottage-cheese skin, orange-peel skin, the mattress phenomenon. This condition can affect both women and men. But it's more common in women, due to the various distributions of muscle, fat, and connective tissue.
Contributing factors to cellulite include:
Hormonal changes
Age
Genetic predisposition
Stagnant lymph
Poor diet
Obesity
Smoking
Pregnancy
Not drinking enough water
Stress
Lack of exercise
You can eliminate cellulite naturally and quickly by following a few home remedies and by doing yoga or exercises. These tips will reduce and inhibit cellulite and pave the way for a fit and healthy life as well.
How To Get Rid Of Cellulite

Quickly

and

Naturally
1. Body Brushing
Body brushing is one of the simplest ways on how to get rid of cellulite quickly. It is effective at breaking up the toxic material, which composes cellulite. Besides, it is beneficial for moving stagnant lymph and tightening the epidermis.
For this remedy, prepare a soft body brush and brush the body part towards the heart in an upward direction. Keep brushing for five minutes. Follow this method twice to thrice in a week. (Get full dry skin brushing instruction here)
Note: Opt for a body brush that is made of natural bristles and is also soft. Avoid brushing on the inflamed or damaged skin.
2. Coffee Scrub
Loaded with a rich source of antioxidants, coffee is lush and refreshing for your senses. It is also beneficial for your skin. Due to its caffeine, coffee can help to exfoliate the skin, serve as a lightening agent, and enhance the blood flow when applied topically to your skin.
This treatment works well for cellulite on your calves, thighs, buttocks, and abdomen.
Things You Need
Coffee grounds – 2 to 3 tablespoons
Water or carrier oil (olive, castor, jojoba or coconut)
Instruction
Make thick paste-like consistency by adding enough water or carrier oil of your option to the coffee grounds. Scrub this paste on your affected area in circular motions for ten minutes and clean the area with lukewarm water. Do the process 2-3 times a week.
3. Apple Cider Vinegar
Apple cider vinegar can help to detoxify the body since it holds antioxidants and minerals. It reduces bloating, which in turn eliminates the appearance of cellulite. It is full of anti-bacteria activities that can effectively flush the bacteria out of the skin. It also helps to provide relief from the skin itching and inflammation. You can use both internal and topical use of ACV at the same time.
Things You Need
Apple cider vinegar – 2 tablespoons
Honey – 1 tablespoon
Water – 4 tablespoons
Instruction
Mix the honey, ACV, and water well. Start rubbing the mixture on the affected area. Let it stand on for 30 minutes before rinsing with warm water. Use the ACV mixture every day.
You can also use ACV as an oral remedy. All you need to do is making a mixture of two tablespoons of ACV in an 8-ounce glass of water. Then, add some honey to it and consume every day in the morning.
4. Green Tea
Drinking green tea can help remove the visibility of cellulite. It is also useful for increasing energy expenditure in your body, preventing fat absorption, and aiding weight loss. Apart from that, green tea contains theobromine that helps to reduce cellulite by promoting the release of stored fats in your body.
Things You Need
1 Green tea bag
Honey
1 cup Hot water
Instruction
The first step is to steep the green tea bag in hot water for a couple of minutes. The next step is adding enough amount of honey to it and mixing. Leave the tea to cool down a bit and drink it. It is best to enjoy 3 cups of green tea daily.
5. Juice Cleanse
Juicing can naturally promote blood circulation, so it will boost the metabolism level. It further acts as a cellulite burner that helps to get rid of toxins accumulated in your body. It also works wonders in reducing water retention in your body.
Things You Need
2 Oranges
1 Large grapefruit
1/4 Lime
1/2 inch ginger piece
Instruction
You take the grapefruit and oranges and extract the juice from them. Chop the ginger and then add it and the juice from the lime to the grapefruit and orange juice. Blend them well. Chill it for a while in a refrigerator and consume it. It's best to drink this juice daily for 3 to 4 weeks.
Note: Don't consume the grapefruit juice if you are taking any medication. It can interact with the absorption and metabolism of many drugs.
6. Turmeric
It is believed that turmeric aids in cutting through fat tissue and increasing the ability of the body to digest it. This ability works well for removing cellulite. Besides, curcumin housed in turmeric may help to combat toxins in the affected areas by removing them from your body. This is known to trigger a fat-burning procedure and may even enhance speedy cellulite removal.
Things You Need
1 tsp Turmeric powder
1 tsp Honey
Instruction
Combine the honey and turmeric well and ingest it. Try this remedy twice a day for several days.
7. Shea Butter
Shea butter can assist in speeding up the collagen production within the skin, thereby giving it a smoother texture. The application of Shea butter also helps to improve blood circulation. This can further aid in diminishing the 'orange peel skin' caused due to cellulite.
This remedy works effectively for cellulite on the hips, legs, and breasts. Pick up raw Shea butter and massage your affected skin with it in circular motions, both anti-clockwise and clockwise. Repeat this home treatment every night, before sleeping.
8. Kelp Powder
Kelp works as a cellulite eraser since it comes with exfoliating and detoxifying agents. It is also potent in improving skin texture and enhancing blood circulation.
Things You Need
1/4 C Seaweed kelp powder
1/4 Bentonite clay
Water/olive oil/lime juice
Instruction
Add enough water to the bentonite clay and kelp powder to create a paste. Apply the paste on your cellulite fat and allow it to stay for about half an hour. Rinse it off with warm water and scrub gently in circular motions. Use this remedy twice a week.
9. Baking Soda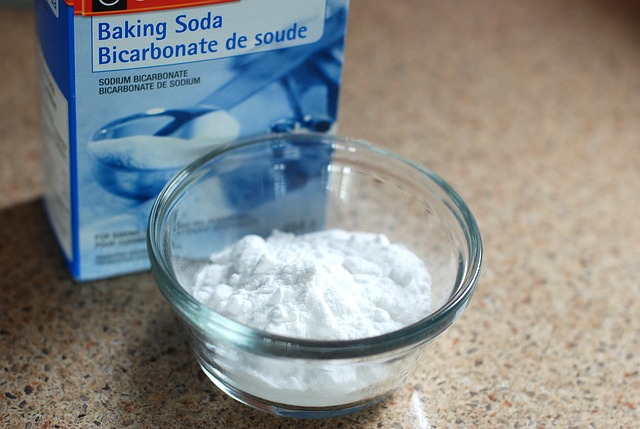 Baking soda works well on exfoliating the skin and neutralizing the skin's pH. It also provides relief from skin irritation and inflammation. Not only this, it is storehouses of antibacterial properties, thus providing complete comfort. Honey in this remedy aids in nourishing the skin and supplying it with antioxidants.
Things You Need
2 TBS Baking soda
2 TBS Honey
Instruction
Just mix the baking soda and honey. Add some water if needed to adjust the consistency. Use this mixture to scrub the abdomen, legs, and chest gently. Use circular motions only and keep rubbing for three minutes before rinsing it off. Repeat this way twice a week.
10. Witch Hazel
Witch hazel is an astringent that helps to tighten the skin while making it appear firmer. As a result, it lowers the appearance of cellulite. Plus, it penetrates the skin and detoxifies it thanks to its antioxidants.
Things You Need
Witch hazel solution
A cotton ball
Instruction
Apply some witch hazel generously on your affected skin with the cotton ball. Don't rinse it off. Follow this simple method once to twice a day for quick results.
This guest post is by Emily Pham, a blogger with many years of experience in searching for the best natural home remedies for
beauty
and health issues
. All content provided is for informational and educational purposes.
We recommend you consult a healthcare professional to determine which method is appropriate for you
.
http://www.lnk123.com/aff_c?offer_id=2469&aff_id=390669